Crater Lake is Oregon's top visitor attraction and we make it easy to visit… even in the winter! Winter is a special time in the Park and there are plenty of close by lodging and dining options that stay open year-round. CLICK HERE for current news and winter specials.
BEST GATEWAYS TO CRATER LAKE
KLAMATH FALLS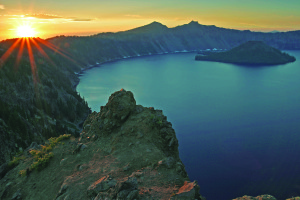 DISCOVER KLAMATH (Highway 97, 57 miles to Crater Lake) – One of the most scenic routes to Crater Lake is a journey up the Eastern side of the Cascade Mountains on Highway 97 into Klamath County, which provides one of the most beautiful and authentic nature experiences anywhere. The Volcanic Legacy Scenic Byway will take you on a fascinating journey to and from the Park. With numerous lodging choices, the town of Klamath Falls is only a stone's throw away. Klamath County is just the kind of place that compels you to touch, try, and taste its bounty. It may change your life. Redefine your next Road Trip by visiting Klamath County. Visitor Center Location: 205 Riverside Dr., Klamath Falls, OR, Phone: 1.800.445.6728. CLICK HERE TO VISIT WEBSITE.
CRATER LAKE AIRPORT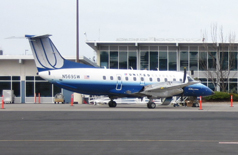 CRATER LAKE – KLAMATH REGIONAL AIRPORT (Klamath Falls, 57 miles to Crater Lake) – Newly renamed the Crater Lake – Klamath Regional Airport, the historic Klamath Falls airport is the closest airport to Crater Lake. Just minutes from downtown Klamath Falls, which offers convenient car rentals and excellent lodging, the airport makes it easy to plan your own "FLY-DRIVE-SEE CRATER LAKE" trip. Visit their website to see their current schedule of air service. Location: 6775 Arnold Ave., Klamath Falls, OR, Phone: 1-541-883-5372. CLICK HERE TO VISIT WEBSITE.
ASHLAND-MEDFORD
ASHLAND SPRINGS HOTEL, LITHIA SPRINGS RESORT, ASHLAND HILLS HOTEL & SUITES, INN AT THE COMMONS, (Interstate 5, 80 miles to Crater Lake) – If traveling from California via I-5, Ashland and Medford are your first gateways to Crater Lake. The locally owned Newman Hotel Group offers an outstanding collection of fantastic places to stay. The Ashland Springs Hotel (212 East Main Street, Res: 1.888.795.4545) is a restored historic landmark in downtown Ashland with 70 tastefully appointed, non-smoking guest rooms, free continental breakfast, wi-fi, and 24 hr. parking. It's also home of the Waterstone Spa & Salon and Larks Restaurant. Lithia Springs Resort (2165 West Jackson Rd., Res: 1.541.482.7128) is a spa-like retreat on the edge of town that celebrates its mineral hot springs heritage with hot mineral water private soaking tubs in all 28 bungalows and suites. The Ashland Hills Hotel & Suites (2525 Ashland St., Res: 1.855.482.8310) is nestled on the quiet side of Ashland with panoramic views. Its spacious suites provide kitchenettes, balconies, wi-fi access and free parking. Medford's Inn at the Commons (200 N. Riverside Avenue, Res: 1.541.779.5811) is in the heart of downtown. Newly renovated, its 118 non-smoking spacious rooms and suites feature all top-rated hotel amenities. To learn more about each property, see individual Lodging listings below.
GRANTS PASS
HELLGATE & MORRISON'S (Interstate 5, 96 miles to Crater Lake) – Located right off Interstate 5, Grants Pass offers you the unique opportunity to WOW the family with a visit to Crater Lake and a Rogue River family adventure. Start your Grants Pass visit by booking a reservation on the Northwest's #1 River Trip, Hellgate Jetboat Excursions (966 SW 6th St, Grants Pass, Res: 1.800.648.4874). See the beauty of the Rogue River, jet through the jaws of Hellgate Canyon, experience 360° spins and dine family style at their exclusive riverfront OK Corral. Follow it up with a relaxing stay along the Rogue River at historic Morrison's Rogue River Lodge (8500 Galice Road, Merlin, Res: 1.800.826.1963) or reserve one of their cozy cabins. Swim, play tennis and experience their fine dining while you watch herons fish, osprey dive, or eagles soar along the river.
ROSEBURG
LAND OF UMPQUA (Interstate 5, 102 miles to Crater Lake) - The trip from the City of Roseburg to Crater Lake via the Rogue-Umpqua Scenic Byway is considered by many the most scenic route to Oregon's only National Park. The "Land of Umpqua," which stretches from the coast to the Cascade Mountains is filled with authentic adventures. On your way to the Park stop at dozens of waterfalls, hike or mountain bike the North Umpqua Trail that parallels the "Wild and Scenic" North Umpqua River (dotted with campgrounds). Cast a line for steelhead, trout or bass and as much adventure as you could hope for in one river. The perfect base for exploring the area is the town of Roseburg offering over 1,000 rooms. Stroll through historic downtown, with unique shops, galleries, outstanding brewpubs and restaurants. Venture out and sip your way through the Umpqua Valley wine region, one of Oregon's fastest growing. Roseburg Visitors Center location: 410 SE Spruce Street, Roseburg, OR, Phone: 1.800.444.9584. CLICK HERE TO VISIT WEBSITE.
EUGENE, CASCADES & COAST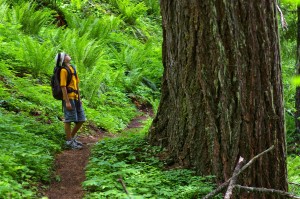 EUGENE, CASCADES & COAST (Highway 58 via Oakridge to Crater Lake 176 miles or Interstate 5 via Cottage Grove to Crater Lake, 173 miles) – The Adventure Center (I-5, exit 194) can provide you with road conditions, weather, free maps and points of interest to Crater Lake National Park. Eugene – Springfield is a cornucopia of wineries, breweries, performing and visual arts, outdoor recreation and sports. Two scenic routes lead to Crater Lake: Highway 58 takes you via Oakridge, "The Mountain Biking Capital of the Northwest," and some of Oregon's best natural wonders. One spectacular "must see" is Salt Creek Falls, Oregon's second highest continuous waterfall. The second route takes you south on I-5 to Roseburg via Cottage Grove, an "All America City" steeped in pioneer culture with the largest concentration of historic covered bridges west of the Mississippi. (Visitor Center & Gift Shop: 3312 Gateway St, Springfield, OR, Phone: 1.541.484.5307. CLICK HERE TO VISIT WEBSITE.
OREGON SOUTH COAST
GOLD BEACH & BANDON (Highway 101, Gold Beach 221 miles, Bandon 187 miles to Crater Lake) - Many Crater Lake visitors don't realize that combining a tour of Oregon's spectacular South Coast is very doable with a visit to the Park. There are numerous routes that connect the coast to the Park. You can either start or end your trip with a coastal experience. The highlights of any South Coast visit are the towns of Bandon and Gold Beach. Bandon (Visitor Center location: 300 Second Street, Old Town, Bandon, OR, Phone: 1.541.347.9616) is a charming and unspoiled town that is world-famous as the home of Bandon Dunes, one of the top golf destinations in the world. Gold Beach (Visitor Center location: 94080 Shirley Lane, Gold Beach, OR, Phone: 1.800.525.2334) is where the Rogue River meets the sea. It offers Rogue River jetboat trips, easily accessible beaches, and great fishing. To learn more about both towns, see Attractions below.
Quick Links to More Info: